About Us
Horng Jiuh Plastic Machinery Plastic Co., Ltd is located at the central of Taiwan, Taichung City. We have dedicated in Recycled Plastic Pellets and Plastic Machinery business for more than 25 years, and have bunch of customer domestically and internationally.
In Recycled Plastic Pellets Business, we dominate manufacturing HDPE, LDPE, PP, ABS, HIPS recycled pellets, etc; and our production have expanded and supplied to all over the world, over 15 counties.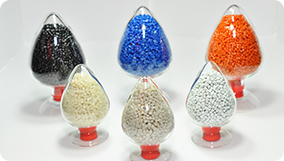 Service Features:
"Stable quality, On-time supplying, Variable Production." Are our business features.
P.S.Q.C.C. is our commitment to you.
Professional techniques
Strict process control
Quality guarantee
Customized service
Consistence supplying materials
Business CORE:
Due to the limitation of natural Oil source, RECYCLE is the must for the global future target. In order to improve limited plastic reusable and sustaining usage, HORNG JIUH really concern the eco-friendly goal into our processing procedure. We believe economic growth and environmental sustainability are able to coexist. We are using complete pollution prevention utilities, such as air, water, etc, pollution equipment for protecting our environment. Through following the eco-friendly concern, we are able to provide you best quality of materials for your material demand.
HORNG JIUH will be your reliable business partner for your quality and competitive suppliers!
Please visit our website to have a further understanding about the full range of our products.